Mission
Attentive customer service is what sets Le Shin apart from other companies. Give customers what they need and a little more service to let them know you value them. No matter what we do, we focus on integrity,
quality, price, and coordination, and we must ensure that our customers are satisfied.
Vision
a. Guarding life is more comfortable--healthy feet, good mobility, enjoy the beauty of the world!
b. Sharing the beauty of the world--healthy feet, bringing action, guarding life more freely!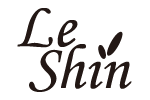 The LOGO design is mainly expressed in Monotype Corsiva fonts, with slightly italic font characteristics showing positive and motivating characteristics, conveying Le Shin's "prosperous development" and "connecting with customers" concern and interaction. At the same time, it conveys the relationship of "establishing integrity" and "long-term cooperation" so that customers can achieve a "win-win" situation.
The "I" letter has a wing-like pattern, expressing the spirit of continuous exploration and innovation-conveying zero defects in products and competitive quality. Established an international brand of Taiwan textile products.